Through the Lens of Chinese Documentary Filmmakers
Special Edition
Hello,
I'm Siyi Chen, an independent documentary filmmaker based in China and the US. Born and raised in Zhejiang, educated in New York, it is a natural choice for me to constantly move across borders for a documentary career in both countries.
A growing number of filmmakers like me are taking advantage of their access to multiple cultures, making never-seen-before films about China for the international audience or using their international experience to help develop a nascent documentary industry back home. There are enough of us to form a WeChat group called the "Chinese Doc Mafia."
Some of us made films nominated for the Academy Award; others directed films that challenged stereotypes and achieved tangible social impact. We bump into each other at filmmaker panels, fundraising forums and prestigious film festivals across the globe.
While the future is exciting, Chinese filmmakers like me also face many challenges. We're constantly asked by investors: "Can your documentary serve both Chinese and international audiences? "Or, "how do you deal with the ever worsening censorship of the Chinese documentary industry? What about the risks you bring to your characters and yourself? How can a film that cannot be watched in China achieve impact there?" Questions like these often discourage international co-productions and funders from providing essential support to our work.
We also often face questions from the Chinese audience: "Are you sensationalizing and stereotyping our stories for the world?" While nationalism plays a role in these doubts, we still have to ask ourselves: is there any truth to this argument? How do we challenge stereotypes with our work?
For this special edition of the Chinese Storytellers newsletter, we invite my fellow Chinese documentary filmmakers to discuss the opportunities and challenges of making films that cross geographical and cultural boundaries.
Thank you,
Siyi Chen
P.S. Don't forget to RSVP to our upcoming event: a conversation with filmmaker Hao Wu about his film "76Days" on the COVID-19 outbreak in Wuhan. Friday, October 30, at 9 p.m. EST. Register HERE. Attend a free screening of the film here.
What are some of the pros and cons of making documentaries about China from abroad?
The biggest advantage is the freedom to pick any topic you'd like to pursue and just do it. You wouldn't worry about potential censorship. In the past, there used to also be the advantage of working in an environment where the nonfiction media market was more mature, so you could follow certain paths to have your documentaries funded, screened at film festivals and then distributed commercially. But this advantage is fast disappearing as China's documentary market develops. The biggest disadvantage is the distance between the films and the most receptive audiences. Documentaries, as news and other non-fiction media, should be part of a society's discussions about culture, social issues and political concerns. Yet documentaries about China produced overseas, on topics that may invite censorship, rarely find wide distribution in that country, thus limiting their impact.

For example, my Netflix doc short "All in My Family" is finding resonance among Asian American communities and many other developing countries where the LGBTQ rights movement encounters resistance from traditional forces. I'd love to have that film widely distributed in China, where it would stimulate the most discussions given the film's cultural and linguistic roots. But as we all know, China is increasingly prohibiting LGBTQ presence in the media. My previous feature documentary, "People's Republic of Desire," suffered a similar fate. Despite the absence of any overt political message, the film could not get past the censors. For a film about live streaming, an internet craze that finds its most eager adoption in China, not being able to publicly screen in China is a real shame.
I'm very interested in social issues. If we take distribution in China out of the picture, there's a lot of freedom to what topics I can work on from overseas. But the challenges are about how we fund our films and how to tell China's stories well to an international audience. Funding is an extremely difficult task for most independent filmmakers, and overseas fundraising for stories about China makes it even more difficult. Although my film "Finding Yingying" is a story that took place in the U.S., as I applied for government fundings in the States, the feedback I received was often that the film is "not American enough."

I had to rely on equity investment and donations from the Chinese American community to finish my film.
I often see people who don't know much about China make films about China. Sometimes, filmmakers who don't speak Chinese would make films in which subjects speak several Chinese dialects. Weirdly enough, that is how I got my first job in documentary — as a translator. It bothers me that filmmakers from the local communities with direct access struggle to get resources. But this is changing. When I lived in New York, I joined a group called Brown Girls Doc Mafia (BGDM), which promotes the idea of letting people of color tell stories from their communities with their own voices. Although communities like this exist, it takes time to break the stereotypes and barriers that have been there for decades. We need to constantly think about whose voices we are representing, and what's the purpose of making a documentary. It takes more than curiosity to tell China stories. Filmmakers should be open-minded and willing to put in some hard work during the research period.
How do you balance international audiences' interest in certain China stories with the need to challenge stereotypes?
Instead of focusing on what international audiences might be interested in, I tend to focus more on what I want to express and what interests me. Every film would find its audience ultimately if it's convincing and can provoke thinking and emotions. Last year, I saw at many international film festivals that audiences are interested in all kinds of China-related films - some very personal, some political, and some experimental. Although documentaries focusing on China's social issues usually require more clarity and context, I think cinema is an international language and art form: as long as the director is able to evoke universal emotions through storytelling, they can find their own "international audience."

Regarding stereotypes, sometimes I would do research to see whether there have been some common preconceptions the audience may hold. If there are, I would try to acknowledge and challenge those biases. I would also look into popular documentaries on the same issue and think about why I want to make another film about the topic and how mine could provide a different perspective. If the film just repeats points that had been made, I would reconsider if I want to make the film. I've seen films that reinforce propaganda or omit facts to get around China's censorship. This makes me think about why I want to be a filmmaker in the first place. There is only one truth, but many interpretations of realities. What's important for me as a filmmaker is the ability and willingness to do thorough research, be truthful and fight for what we believe is right.
Hao Wu:
For China-born filmmakers, we are lucky that the world continues to have great interests in stories from China, because China continues to be an emerging power. Personally, I feel that the U.S. market prefers conflict-driven narratives more than other markets. It's unfortunate because the U.S. remains the largest market for docs, but funding sources do exist elsewhere that support diverse narratives and perspectives on China.

Personal interests and creative visions aside, the biggest practical questions for internationally minded documentarians are - for which markets are you making your film? Do you want to make a film that's good and let distribution sort itself out, or do you want to chase the largest possible funding or sales? If your goal is the latter, then go after a newsy topic with strong political undertone. If it's the former, then I actually don't think you need to worry too much about meeting the audiences' expectations. It may sound cliche but it's true - a great film will always be recognized as a great film. Strong characters, great human stories and good production quality - all these make a great film. Look at "Honeyland." It's a great "small" film and it found great distribution worldwide. Obviously, if the film has any tie to the target market's media discussions, its distribution could be even better. "American Factory" immediately comes to mind.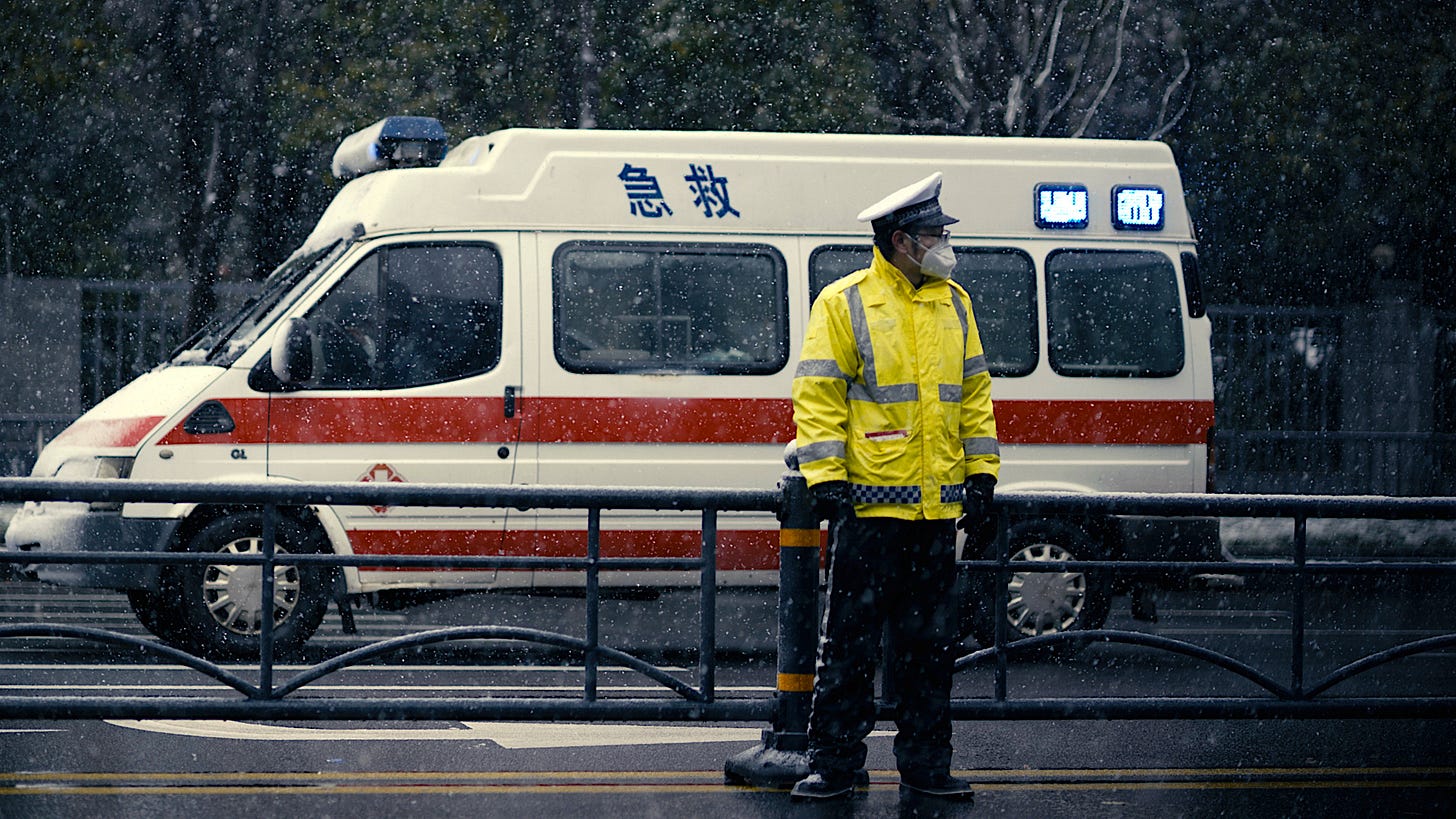 (Credit: Hao Wu, "76 Days")
Jenny Jiayan Shi:
I've always believed that international audiences are very interested in the realities of the Chinese society, especially in topics that they've heard of but are not familiar with. "One Child Nation" (Nanfu Wang, Jialing Zhang), a film about China's one child policy and "76 Days" (Wu Hao, Weixi Chen, Anonymous), a film about the coronavirus pandemic in Wuhan, were both very well received internationally. "Last Train Home" (Fan Lixin), a film illustrating China's economic development, won lots of acclaim. "Our Time Machine" (S. Leo Chiang, Yang Sun), a film about Alzeihimer's, tells a touching family story that transcends nationalities and races. Some audiences may have preconceived notions about China, but it doesn't stop them from loving Chinese documentaries. Chinese documentarians like us have to do more work to decode China. We should put more thoughts into every aspect of the filmmaking process, from the grand perspectives of how a story is told to details like how to add subtitles. With my documentary "Finding Yingying," we wanted to target the English-speaking audiences from the very beginning, so we tried our best to do all the interviews and voiceovers in English. We also added specific sections to the film that would help English-speaking audiences understand the story better.
Xin Fang:
Filmmakers should ask ourselves: are documentaries made to educate the audiences? Who are we trying to reach? Can we shift the focus from the big theme to an individual? As a documentary filmmaker, our job is to talk to our characters, get to know them, and hopefully to present their stories unbiasedly via our lens. Each action we make has a potential ethical consequence. For international co-production films, we usually have to deal with these situations both internally and externally - everyone should be on the same page, knowing that we are not taking advantage of our characters just to make a film. Documentary is a fascinating yet intricate genre, because people can feel it. The audiences will know what's your true motive of making a film.
How do documentaries that are released internationally achieve social impact in China?

Jenny Jiayan Shi:
I don't think distributing documentaries about China internationally can change the status quo in China. Most films discussing realities in China often have no way of entering the Chinese market. Only those released in Chinese cinemas can create real social impact. But releasing documentaries internationally can play a key role in breaking stereotypes and biases.
Hao Wu:
I think we need to divide these documentaries into separate categories. Those Addressing non-political social issues like health care and sports can find audiences both in China and the rest of the world. They could spark societal conversation and become a changing force in China. However, any controversial topic, even if not overtly political, will face tremendous censorship in China's media environment. I'm not optimistic about internationally released documentaries finding wide distribution in China, or having meaningful impact on current discussions about where China is and the direction it should be going in.
Xin Fang:
This year, I was lucky enough to co-produce a film selected by several pitching forums in China, including CCDF, Fresh Pitch Forum, and West Lake IDF. Most feedback challenged us on how to reach international audiences and convince international buyers.

Because of limited distribution channels in China, internationals funders are often concerned about getting their return on investment. While I'm grateful documentaries are getting more awareness in China, it takes time to cultivate a community of Chinese audiences who truly understand and love documentaries.
How can we advance international collaboration as it becomes increasingly challenging to film in China?

Jenny Jiayan Shi:
International collaboration has become more difficult as Covid-19 makes traveling and shooting on location more risky. In addition, a lot of international collaboration projects are highly politically sensitive. I hope to see more platforms like CNEX that provide lots of potential opportunities for international collaboration. More and more emerging filmmakers have studied abroad. Some have chosen to return to China. Others like me have chosen to stay overseas. We are all connected. As a documentarian, I built my career in the U.S., but I know very little about what the market is like in China. I very much look forward to working with young filmmakers based in China.
Hao Wu:
I don't think independent filmmakers should worry too much about "production value." Great stories and great access to strong characters are still key. So, one should focus on finding characters and stories and improving the filmmaking crafts.

Finding international partners, however, requires additional production efforts. Documentary is an industry. As in any industry, you need to know how it runs and how to find people to help you secure funding and distribution. It's important to spend time going to industry events (e.g., festivals, workshops, pitching forums, etc.) and get to know people. Sell yourself and your stories. Attract a group of mentors and partners to help you.
---
Bios

Siyi Chen
Siyi Chen is an independent documentary filmmaker and freelance journalist. Born and raised in Zhejiang, China, educated in New York City, Siyi currently splits her time between both places working on her first feature length documentary. She worked for the video team at Quartz (qz.com) for two years after graduating from NYU with an MA in News and Documentary.
Xin Fang
Xin is a Chinese artist and documentary filmmaker. Born and raised in Shenzhen, Xin came to the United States to continue her bachelor's degree in visual journalism and sociology at Boston University. She graduated with Paula Rhodes Memorial Award from the School of Visual Arts in documentary filmmaking. Her debut short film, Before He Starts, has been screened at a number of film festivals worldwide, including EBS International Documentary Festival in Korea, St. Louis International Film Festival, Reel Sisters of the Diaspora Film Festival, Tallgrass Film Festival. It has also been preserved by the Asian Film Archive. She is currently co-producing a feature-length documentary, Death Education, as well as producing her second short film.
Jiayan Jenny Shi
Jiayan (Jenny) is a Chicago-based documentary filmmaker and video journalist who is passionate about social justice issues regarding people of color. Her debut documentary "Finding Yingying" (MTV Documentary Films) won the Special Jury Recognition for Breakthrough Voice at the 2020 SXSW Film Festival. Jenny has also worked on several projects as a researcher, digital content editor and translator including the ITVS co-produced web series "Pulling The Thread" and the 2020 Academy Award-winning documentary "American Factory." Jenny is a graduate of Kartemquin's Diverse Voices In Docs program, a TFI Network alum and a fellow of the Inaugural Women at Sundance Adobe Fellowship. She was named as one of the 3rd DOC NYC "40 Under 40" filmmakers.
Hao Wu
Wu's documentary films have received funding support from The Ford Foundation JustFilms, ITVS, Sundance Institute, Tribeca Film Institute, NYSCA and international broadcasters. His previous feature documentary, People's Republic of Desire, about China's live-streaming phenomenon, won the Grand Jury Award at the 2018 SXSW festival, among many other awards. It has screened at over 40 film festivals worldwide and broadcasted nationally on PBS Independent Lens. His latest short, All in My Family, is a Netflix Original Documentary and launched globally in May 2019. Born and raised in China, Wu now travels between the U.S. and China. From 2008-2011, he was a fellow at New America, a D.C.-based think tank. His writing has appeared on Time.com, Slate.com, Marketplace Radio, Strait Times, China Newsweek, and China Daily. He is a member of the Documentary branch of the Academy of Motion Picture Arts and Sciences. His new documentary "76 Days" is screening now.
Jialing Zhang
Jialing is an Emmy Award nominated independent Chinese filmmaker based in Massachusetts. She co-directed and produced One Child Nation about China's One Child Policy, winner of Sundance Film Festival Grand Jury Prize in 2019. She was nominated for a DGA Award for Outstanding Directorial Achievement in Documentary and a PGA Award for Outstanding Producer of Documentary. Her directorial debut Complicit, the intimate journey of a benzene-poisoned Chinese migrant worker who takes on the global electronic manufacturing industry, premiered at the Human Rights Film Festival in 2017. She holds a master's degree in journalism from NYU.
---
Editors: Isabelle Niu, Xinyan Yu.
Chinese Storytellers is a community serving and elevating Chinese professionals in the global media industry. Follow us @CNStorytellers. Questions? Suggestions? Comments? Tell us.