I'm Dave Yin 殷大伟, reporter and editor at Caixin Global in Beijing.
Over the Lunar New Year break, I had the chance to cover China's growing novel coronavirus outbreak. What seemed like just a little disease in one corner of this country two weeks ago has grown to be so much more, to say the least.
Besides the rising infection numbers and death tolls, Chinese media have managed to publish pieces on fears raised by SARS experts; city-wide quarantines; disputes over origins of the virus; evacuation measures by foreign governments; the deaths of officials due to infection; authorities seemingly breaking ranks to deflect blame; medical supply shortages; ensuing government acknowledgment, and more.
And of course, who could forget the fact that reporters have found ways to document ground zero, namely Wuhan, Hubei province, a city under quarantine?
It's uncommon for so much critical coverage to be available to the Chinese audience. Some observers have taken this as an indication that the Chinese government has allowed transparent discussions of this latest crisis.
But what these observers ignore is that authorities also detained those who first discussed the then-mysterious disease for "spreading rumors," and censor their views even now. State media, a key source of information for many in China, continue to downplay the story well after its impact was established. Some say this delay in public awareness aided the spread of 2019-nCoV.
What is "transparent" for China is not very transparent at all.
China is full of contradictions. It claims to have "lifted millions out of poverty" but crushes upward mobility with the hukou system. It touts medical responsiveness when in fact its health resources are strained even on a good day. The country's government often seeks — and succeeds — in applying double standards to itself.
My question to Chinese storytellers is: how do we avoid — and by extension — help our audience understand the pitfalls of normalizing China's shortcomings? How do we hold China to a higher standard while helping readers understand the reasons for doing so?
Dave Yin
殷大伟
---
MAKE A SPLASH 卧虎藏龙
2019-nCoV coverage from our members.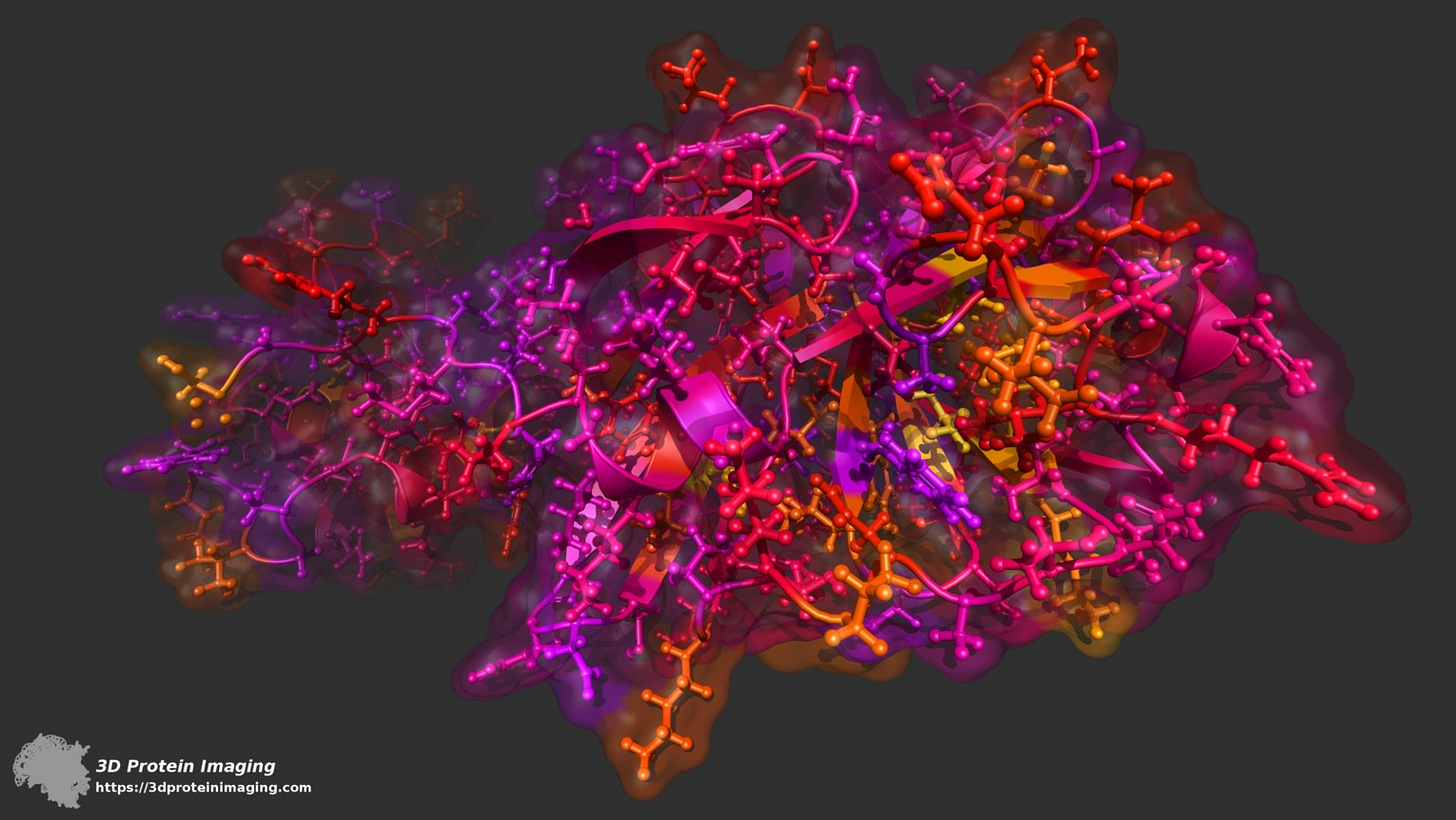 (This is a molecular illustration of a 2019 novel Coronavirus comparative model. Graphic by Gianluca Tomasello via Wikimedia Commons.)

What Slowed China's Coronavirus Response?
Reuters reporter Yawen Chen, a Wuhan native, and her colleague, Cate Cadell, report on the shortage of testing supplies and the government's initial reticence, which has drawn criticism that China has taken too long to learn from the SARS outbreak 17 years ago.
READ

In Sickness and In Health
"Being ill is a process of reacquainting with one's body." So begins Yangyang Cheng 程扬扬's latest Science and China column for SupChina, in which she tackles the controversy of He Jiankui and bioethics, violence at Chinese hospitals, the 2019-nCoV outbreak and subsequent lockdown of Wuhan, and political calculations during times of emergency.
READ

Wuhan on Edge
Another Wuhan native, Muyi Xiao 肖慕漪, works with The New York Times to visualize how the outbreak of 2019-nCoV is straining hospital staff and medical resources in her hometown, the epicenter of the public health crisis.
WATCH

Between Chernobyl and Wuhan
Jane Li 李林晋 of Quartz brings a story of how Chinese people are comparing their government's suppression of information on 2019-nCoV to how the Soviet Union handled the Chernobyl nuclear explosion in 1986.
READ

Where's the Government's Coronavirus Funding?
Individuals are donating to Wuhan hospitals, but Zeyi Yang 杨泽毅 argues in this op-ed for the Nikkei Asian Review that it is the Chinese government's job to provide supplies for medical institutions in need.
READ

Coronavirus' Economic Contagion
William Yang and a team of journalists at the Nikkei Asian Review document 2019-nCoV's economic contagion that's rippling through Asia as it spread across 15 countries.
READ

"Doomsday" Scenes from Wuhan Hospitals
South China Morning Post's Mimi Lau 劉美倩 tracked down the nurse who filmed and released viral footage showing patients packed into corridors and what was described as the bodies of patients lying in a hallway of a Wuhan hospital.
READ

Follow our members' ongoing coverage of 2019-nCoV in and outside of China here.
---
ROCK THE BOAT 抛砖引玉
Thoughts from our members and beyond on topics about the media industry, diversity and more.
In this issue's Rock the Boat, we discuss the challenge of consciously discerning the "China normal."
Reuters reporter Yawen Chen believes it all comes down to our journalistic chops and integrity:
The discrepancy between how China is seen and what it claims to be, and the picture on the ground, often is where the story is. But the quality of such stories comes down to your knowledge of China and the subject matter as a reporter. The more you do your research, talk to the right people, and cross-check facts and data, the less likely it is that you will be blinded by your own position and prejudice, as well as those of your sources.

It also helps that our editors always push us to get named sources on the record, back up assumptions with data, find third-party expert voices, and think about the big picture of what this means to a global audience. We are also obliged to give every party in the story a chance for fair comment, which I increasingly find an important effort to balance the story.
ChinaFile's Visuals Editor Muyi Xiao says it's critical that journalists keep the public informed of the crackdowns on human rights so that they won't normalize abuse of power:
Several fellow journalists have asked me what I think of the censoring of social media posts and news articles about the 2019-nCoV outbreak. It's hard to answer. My initial reaction was, "Actually, not too bad, compared to the government's handling of many other public crises." But then I asked myself, "When did I set the bar for the Chinese government so low?"

I believe that every culture and society is unique and that there is no universal standard for how things work. Judging others based on the social norm in one's own country is dangerous and leads to discrimination. But I do believe that there's one thing that we as human beings all cherish and would like to preserve: our being, and the autonomy and completeness of it. If anything denies it, we should see it as "abnormal" and never normalize it. Censorship is but one abnormality among many other phenomena in China. It is important for us to explain to readers how the abnormalities come into being. Too often they are a result of abuse of power. As journalists, our duty is to exhibit the process, alert the vulnerable, and hold the powerful accountable.
Quartz journalist Isabelle Niu says holding the Chinese government accountable is a basic responsibility of reporters who cover China, but they need to leave their prejudice and cynicism at home:
Normalization leads to acquiescence. That's why reporters should be the last ones to say things like, "It's always been like this." Or, "What else do you expect from China?"

Our job is to find out precisely what happened and not to fire off our presumptions. In the early days of the 2019-nCoV crisis, investigative reporters from Chinese publications such as Caixin and Sanlian Lifeweek did just that. They went to the epicenter of the outbreak and pointed out discrepancies between official accounts and reality on the ground.

I try to remind myself and editors in every story I do that people in China deserve transparency no less than people do in other countries. And we need to hold China accountable when it doesn't act like the modern, complex global power it undisputedly is in 2020.
---
Writers: David Yin, Shen Lu; Editors: Isabelle Niu, Shen Lu; Copy Editor: Miles Goscha.
Chinese Storytellers is a community that empowers Chinese non-fiction content creators. Follow us @CNStorytellers. Questions? Suggestions? Comments? Tell us.