Hello friends,
I'm Yuan Yang 杨缘, the Financial Times' China tech correspondent based in Beijing.
When I first moved to Beijing three years ago, a seasoned foreign journalist joked to me that there were three stories about China: big China, bad China, and weird China.
In the subsequent years I've been reporting on China's tech world, I've seen another narrative develop: scary China. "Bad China" used to be about the government doing bad things to its own people. "Scary China" is about the threat that China, specifically through its technology, poses to the rest of the world.
We as journalists should take some responsibility for the rise of this meme. As an example, I recall that it was early 2017 when the phrase "AI arms race" started to gain prominence. Although I can't remember exactly how the phrase entered the collective consciousness of our English-speaking newsrooms, I can guess at the reason we all reached for it: it sounded scary. Scary things are important, and important things are newsworthy.
It's not a logic that is specific to China: the emotional lens of fear is more common than any other lens in news headlines around the world. As populists well know, humans are easily motivated to act by fear. But fear also dulls our ability to see, to open our minds, and to take in information critically.
My question to all storytellers is: how do we create narratives that extend our emotional palettes beyond fear, and how can these narratives stand out? In this issue's Rock the Boat, we discuss the complications of challenging existing narratives about China when one is ethnically Chinese, and speaking to a non-Chinese audience.
Yuan Yang 杨缘
P.S.: On December 9, we are hosting an intimate sharing session with Inkstone in New York on the power of storytelling. Stay tuned!
---
MAKE A SPLASH 卧虎藏龙
Best work from our members.

🚀👨‍🚀🌌China's Space Ambitions
Kimberly Jin 金彦伯 combs through China's key space projects, including its national space program and a burgeoning private space industry, for SupChina. Despite controversies, such as space debris, China is catching up with the U.S. But is it going to win the space race?
READ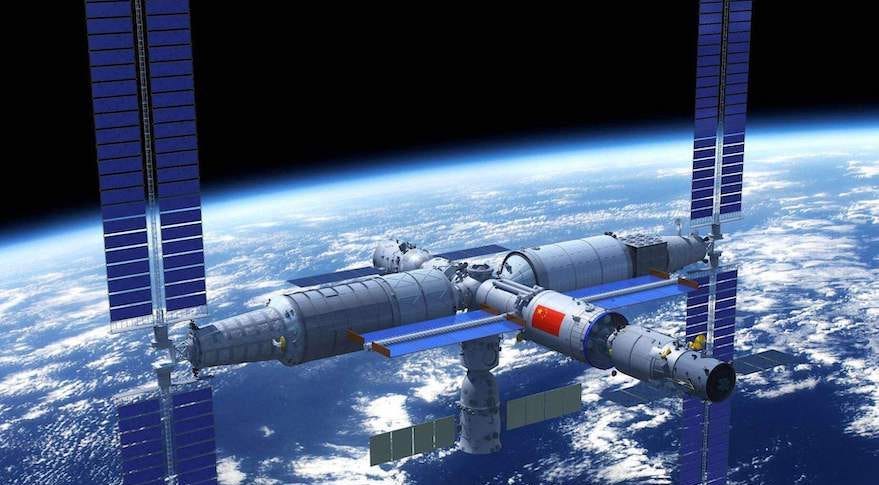 Rendering by China Manned Space Agency
👧🇨🇳The Cost of China's Rise
In a poignant retrospective essay, Liuyu Ivy Chen 陈留瑜 tells an intimate story about how her eight-year-old niece Didi, who was born with cerebral palsy, navigates a state system that chose not to prioritize the vulnerable and powerless.
READ
🚚🐪 Gateway to New Silk Road
Quartz's Youyou Zhou 周优游 documents life in Khorgos, a town that spans the Kazakhstan-China border. Using photos, maps and on-the-ground reporting, Youyou paints a vivid picture of what it's like to do business in this unique free-trade zone.
READ
👻🎃⚰️Scaring up Halloween Sales
Americans spent an estimated US$8.8 billion over Halloween this year, one of the highest Halloween sales since 2015. GateHouse Media's Dian Zhang 张典 dissects the data to find out what people spent money on.
READ
👨🏻‍🔬🔬The Holy and the Broken
After learning the story of Abdus Salam, the first Muslim scientist to win a Nobel prize, who had a complicated history with his home country, Pakistan, Yangyang Cheng 程扬扬 reflects on her relationship with her own home country, China, as a scientist living overseas.
READ
👶🍼 More Babies, Please
Birth rates are falling globally, and many countries are racing to reverse the trend. Bloomberg's Yue Qiu 邱悦 details demographic and economic shifts based on fertility data from 200 countries and shines a spotlight on four outliers: France, Saudi Arabia, Nigeria and China.
READ
💻💵 Crypto Xi
Cryptocurrency is all about decentralizing power, so why did Chinese President Xi Jinping suddenly become a darling to the global crypto community? Quartz's Jane Li 李林晋 writes about why Beijing's vision for cryptocurrency may be different from what people think.
READ
👩‍🎓💸"Rip-off" Parent PLUS Loans
Lu Zhao 赵璐 co-writes for USA Today on why Parent PLUS Loans in the U.S. can weigh down low-income families. While it helps some parents pay for their kids' college, loose lending standards have left many families saddled with risky debt.
READ
🥡🍜Quintessential Cantonese food
Stone mill noodle rolls, a Guangdong street food that's underrepresented in many parts of mainland China, are flourishing in Manhattan's Chinatown. Follow Tony Lin 林知阳's Eater New York guide to find the quintessential Cantonese food experience in New York City.
READ
🦀🍲Holy Crab
How did hairy crab, a dish beloved in China, becomes a pariah in the U.S. and how do you eat one anyway? Clarissa Wei and Beimeng Fu 傅蓓梦 travel to the center of hairy crab production in China to find out the answers for Goldthread.
WATCH
👋Submit your published work in three ways: 1. DM us on Twitter; 2. Post it on the Slack channel #shamelessplugs; 3. Email hello@chinesestorytellers.com
---
ROCK THE BOAT 抛砖引玉
Thoughts from our members and beyond on topics about the media industry, diversity and more.
While presenting on a panel about China in the UK this summer, I realized I was the only ethnically Chinese person on the panel, the only person still living in China, and by far the most pro-engagement with China. How does our image as Chinese writers affect an audience's expectations of objectivity, when objectivity is expected to be white? - Yuan Yang 杨缘
Kiki Zhao 赵添琦, writer based in China and the U.S. and research associate at the Fairbank Center for Chinese Studies
I don't think making a sweeping statement criticizing "white" objectivity in the context of discussing China is helpful or accurate. There are quite a few non-Chinese journalists and scholars, many of whom are white, who write about China with a wide breadth of knowledge and insights. I have personally benefited greatly from quite a few mentors who are "white" China experts in both professional and academic settings.

However, it's troubling that more often than not, people are more interested in observing me — someone who grew up in China — as an object, while overlooking my professional credentials, especially when my comments on China frequently challenge a black-and-white narrative of the country. I gain my insights on China and the world not just from my personal experiences, but more importantly, from my professional background and academic training. The latter two shouldn't be dismissed just because I don't feed the audience a narrative of China they want: the kind of plain stories in which Chinese people become "woke" and criticize the Communist party all the time.
Jin Ding 丁进, program manager at the International Women's Media Foundation
As soon as the discussion on "who is allowed to talk about China" starts, almost everyone falls into the trap of seeking validation. I used to work on the "thinktank block" in Washington D.C. The same group of audience members and panelists, Chinese and Americans, walk from one China-related event to another. I wonder what these people have actually learned about Chinese through these events.

Objectivity is always a moving target. What event organizers and media editors should be worried about is providing a diverse range of opinions and information for consumption. A panel on China should include Chinese opinions. And they should avoid "filling quotas": "We have one Chinese here, so we are good." We should always remind ourselves that opinions among Chinese vary from one another and every China issue is complicated.
Youyou Zhou 周优游, reporter for Quartz Things
One has to separate professional principles and guidelines from perspectives. Being ethnically Chinese or a Chinese citizen, we don't violate principles - we add perspectives. It's welcoming when the media and the audience are open to and cherish different perspectives. It only becomes a problem when organizations and their audience decide to only let a certain kind of voice in and disguise it as professional, objective, and principle-abiding.
🤔Tag @CNstorytellers on Twitter to keep the conversation going.
RAISE A GLASS 拍个马屁
We recognize our members' professional achievements (and flatter them).
📕Karoline Kan 阚超群 won the 2019 Young China Watcher of the Year Award. Read her book Under Red Skies about three generations of life, loss and hope in China.
💉Xinyan Yu 余心妍's short film on the U.S. opioid crisis won the gold prize for Best Use of Online Videos at the 2019 Asian Digital Media Awards.
📗Stories of the Sahara, a book written by Taiwanese writer Sanmao and translated by New York-based writer Mike Fu 傅麦, is debuting on Nov 14. Make pre-orders here.
🥂 Tell us what makes you proud via email, Slack or Twitter.
---
MAKE SOME DOUGH 肥水入田
Jobs, gigs, grants, fellowships, etc.
MacroPolo, Summer Associate [Chicago] MacroPolo is recruiting highly-qualified undergraduate and graduate students for its summer associate program. APPLY
Quartz, Technology Reporter [NYC] Quartz seeks an experienced reporter to contribute to its coverage of the global tech sector, with a focus on original insights on news, scoops, and informed analysis. APPLY
The New York Times, Photography Fellowship [NYC] This is part of the Newsroom Fellowship Program for early-career journalists. APPLY
Global Mandarin, Digital Content Producer [Washington, D.C.] Global Mandarin is a new digital media platform that aims to inform and engage with young Mandarin-speaking audiences around the world. They are hiring full-time and freelance journalists. Reach out to Alex Zhang on Slack if interested. APPLY
IWMF, Program Intern [Washington, D.C.] The International Women's Media Foundation is looking for a paid program intern. Application deadline December 6. APPLY
Reuters, Visuals Journalist [Hong Kong] Reuters Video News is looking for a Visuals Journalist with core skills in Video and an ability to shoot still pictures, to work in both mediums in Hong Kong. APPLY
👀Find more on the #opportunities channel on Slack.
---
Writer: Yuan Yang, Xinyan Yu; Editor: Xinyan Yu, Isabelle Niu; Copy Editor: Daniel Mejia, Shen Lu
Chinese Storytellers is a community that empowers Chinese non-fiction content creators. Follow us @CNStorytellers. Questions? Suggestions? Comments? Tell us.