No Country for Chinese Journalists
Special Edition
Hi all, this is Shen Lu, a founding member of Chinese Storytellers.
I moved to the United States for graduate school in 2016 after briefly working as a news assistant at an international news outlet in Beijing. I was one of many Chinese journalists drawn to the beacon of press freedom, hoping that in the United States, a country whose democratic institutions inspired me to come and study journalism in the first place, we could work as proper journalists without fear.
For some of us, it takes leaving China to be rid of that assistant role and to have our own voice. But it turns out that press freedom doesn't protect us in China, and it seems to no longer protect us in the U.S.
On May 8, the U.S. Department of Homeland Security announced a new visa rule, dictating that mainland Chinese nationals working for non-American news organizations holding a journalist visa can only stay in the U.S. for no longer than 90 days with the possibility to apply for a three-month extension. Each visa extension application means more bureaucratic ordeals and the added risk of a denial.
The current visa restriction targets journalists on the I visa in an effort to thwart Chinese state media operating in the U.S., but it also affects mainland Chinese journalists working for commercial Chinese media, like Caixin, Yicai, and Sina, as well as non-American international media, such as the BBC and Reuters. It is the latest round in the escalating tit-for-tat media spat between Washington and Beijing starting in February. Since then, the U.S. has designated five U.S.-based Chinese state-run news organizations as foreign government functionaries and capped the number of Chinese citizens allowed to be employed by those organizations in the U.S. The Chinese government, in retaliation, has banished more than a dozen American journalists working for The New York Times, The Washington Post and The Wall Street Journal. In fact, China has been harassing and expelling foreign journalists for years.
Chinese journalists have become the primary victim of the confrontation. In March, Chinese authorities forced at least six Chinese staff working for American news outlets in China to resign, which received little international attention. Across the Pacific, each new restriction the Trump administration puts forth endangers the job security and prospects of numerous Chinese journalists. They also deal a huge blow to the entire community and worsen racial-profiling in the journalism industry.
In this special edition of our newsletter, we invite Chinese journalists to talk about how geopolitical tensions affect their work.
Shen Lu
Chinese Storytellers is an inclusive community of media professionals. This newsletter features some members' personal testimonies and opinions, which do not speak for the community as a whole.
(Graphic by Mengwen Cao)

The Citizenship-based Blanket Policy
Zhaoyin Feng, BBC reporter based in Washington D.C.
As a Chinese national working for a British media outlet in the U.S., I often find myself caught in the middle of rising global nationalism and geopolitical tensions.
Whether or not to put my byline on articles that are critical of China is a continuous struggle. On Twitter, trolls from both sides accuse me of being either an undercover Chinese Communist Party agent infiltrating the U.S. or a traitor of China smearing my motherland in Western media. Offline, I also feel elevated suspicion over my job — from Washington insiders asking "who do you REALLY work for?" to nationalist Chinese students disapproving of Western media's coverage. My encounters with people online and offline have become similarly tinged with hostility.
Although the obstacles I face in the U.S. may not compare with the harassment and expulsion some foreign journalists based in China have been subjected to, many mainland Chinese journalists like me will soon start to feel a similar pain as China and the U.S. accelerate their race to the bottom.
The new visa restrictions are hardly surprising. My heart sank two months ago when a senior White House official suggested reevaluating visa conditions for Chinese nationals working for non-state-owned media. But when the bad news eventually broke on a relaxing Friday evening in quarantine, it still put me in a state of shock and disbelief. I had flashbacks of my six years in the U.S. — from attending one of America's finest graduate programs for international studies to reporting in both English and Chinese for the BBC. After having built my career here for six years, how did I become subject to such suspicion that I must renew my visa every 90 days?
Such a blanket policy targets our citizenship without taking into account our work. It falsely accuses all Chinese media professionals working for non-American media outlets of being state representatives, even if many of them work for independent organizations. The new regulations mean that mainland Chinese reporters at international media companies cannot work freely in the U.S., similar to the situation in their native country.
As Beijing tightens its grip on the press, an increasing number of ambitious Chinese journalists are leaving home for the U.S. to seek greater freedom at work and in life. But now, the U.S. is shutting its door on them, effectively becoming more like its own adversary. But it can never beat China at its own game — it will only turn talents away, damage its own core values, and lay bare its frayed confidence.

Not Every Chinese Journalist Is a Propagandist
Zhang Qi, U.S. Correspondent for Caixin Media 财新传媒
I have worked very hard throughout my professional life to surmount the many obstacles that come with being a Chinese journalist. Today, I've exhausted all options and find myself cornered.
The trajectory of my career is marked by sacrifice, starting with my dream school: in 2014, when I was admitted to the journalism school at Columbia University, I decided to decline the offer because I believed it would be nearly impossible to get a media job in the U.S. as a Chinese graduate, and hundreds of thousands of dollars in tuition would be wasted. Instead, I chose to go to a school in the U.K. with a full scholarship. Upon graduating, I landed a job at the international desk of Caixin, one of the most respected independent news organizations in China.
I've always wanted to report from where the world's most impactful foreign policy originates. In February 2018, my dream came true: Caixin sent me from Beijing to Washington, D.C., and my work has been fulfilling ever since.
In the U.S., I witnessed the impacts of policy decisions made during a series of confrontations with China, including the trade war, technological contest, and the COVID-19 pandemic. In documenting the policy changes and explaining their implications to Chinese readers back home, my reporting demonstrated its value with accurate and balanced writing at a time when misinformation inside China is rampant.
It has also been increasingly challenging to do my work as U.S.-China relations continue to deteriorate. This February, when I asked Health and Human Services Secretary Alex Azar at a press conference whether the U.S. would loosen travel restrictions with China and stop calling COVID-19 the "China virus," people called me a "propagandist" on Twitter.
This is not the first time things like this have happened to me and my fellow Chinese reporters. Every time I tell others that I work for a Chinese outlet, I feel pressured to stress that it is a non-state media company — not because I despise reporters who work for those organizations, but because I know what people's assumptions about Chinese state-media are like. There is an important fact that many are not aware of: not all Chinese media are state-owned, and not every journalist at state-owned and non-state-owned media is a propagandist.

Covering China From the U.S. — Is It Still Viable?
Zhang Yan, U.S. correspondent for Hong Kong-based Initium Media 端傳媒
Last spring, I spent several months in the U.S. as part of a journalism fellowship at a time when the U.S.-China trade war escalated. During the fellowship, I got to know American experts with great insight into the trade talks — connections I could not have easily obtained as a reporter in China. That was the moment I realized that my employer, Initium Media, a Hong Kong-based media company, needs a presence in the U.S.
Upon convincing my colleagues of the value of covering China from the outside, my company agreed to relocate me from China to Washington, D.C. I immediately dove headfirst into reporting on the pandemic, the FBI's investigation on Chinese scientists, phase one of the trade deal, Liu Qiangdong's lawsuit, TikTok's expansion, and finally, the U.S.-China media spat. I acquired stacks of documents through the Freedom of Information Act and spent my free time digging into their details.
These stories offered a rare window into how the U.S. interacts with its greatest competitor and proved extremely popular among our readers. I hoped that I would have all the time in the world to tell more stories like these, but now I can no longer be optimistic.

A Loss for the U.S. Is a Win for Beijing
Mia Li, research scholar at Paul Tsai China Center at Yale Law School
In 2018-2019, I was lucky enough to work on a project at the Columbia Journalism School, where I met many talented students from China. They are bilingual, tech-savvy, and true global citizens. All of them came to America hoping to do real journalism and tell impactful stories.
Fast forward to 2020: these students, trained at the most elite journalism school in the world, may not be able to work as journalists in America under the new visa restrictions. What signal are they to receive? Should they go elsewhere, as the beacon of press freedom they sailed for two years ago no longer burns bright? Is the "gain" of kicking out Chinese journalists worth undoing the soft power generations of American diplomats worked so hard to establish?
COVID-19, the U.S.-China trade war, and tech decoupling are only three of numerous reasons why now is not the time to ban Chinese journalists from providing much-needed information and extensive source networks to media outlets in America. The global audience needs knowledge and expertise on China's public health, trade, finance, and technology now more than ever. If the goal is to safeguard press freedom, this move only diminishes it. If the goal is to improve the quality of news, this move only deteriorates it. If the goal is to eliminate propaganda, this only hands Beijing a bigger and better talent pool to choose from.
Additionally, the visa restrictions put American journalists in China and their Chinese colleagues at higher risk. In response to the U.S. expelling 60 Chinese state media reporters in early March, Beijing terminated the visas of all American reporters in China with The New York Times, The Wall Street Journal, and The Washington Post. The new DHS visa rule will likely give Beijing exactly what it wanted — an excuse to throw out more American reporters, regardless of which outlet they serve.
Beijing has barred Chinese citizens from working for foreign news outlets in China for decades — a deliberate effort to keep the Western press from gaining meaningful access. It is astonishing to see the U.S. helping Beijing achieve that very goal while undermining its own values and soft power.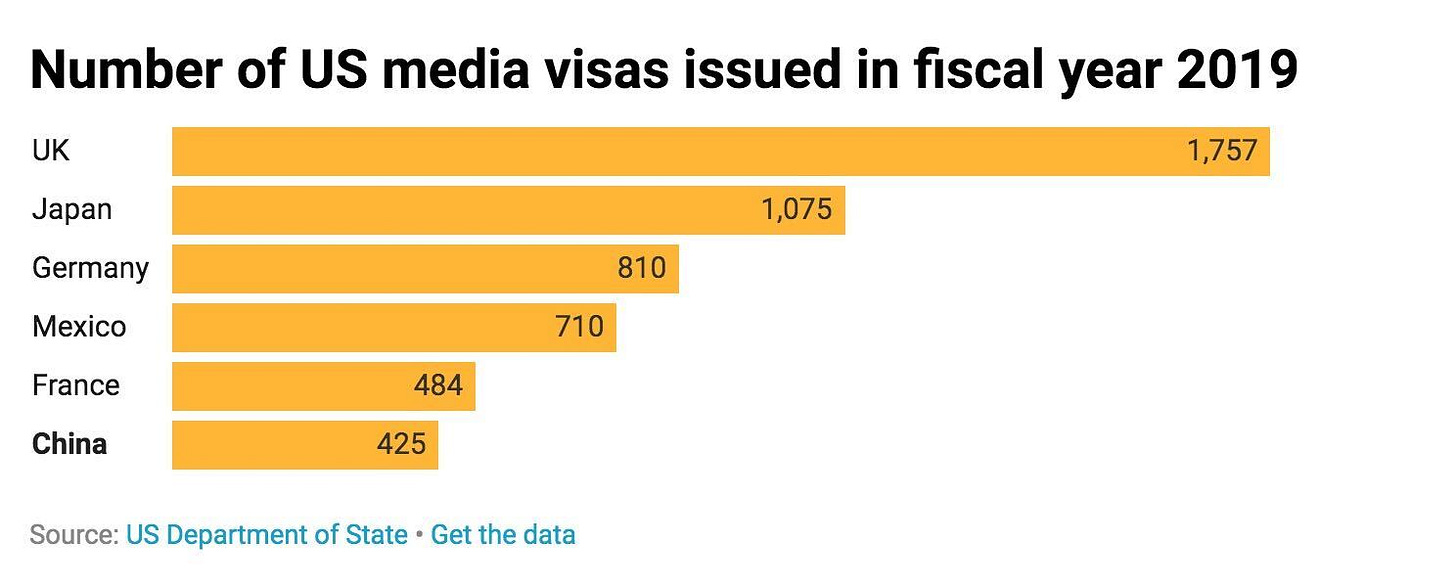 (Graphic by Youyou Zhou)

The Smoldering Beacon of Press Freedom
Zeyi Yang, graduating journalism student at Columbia University
I am one of the Columbia J-school students Mia mentioned above.
I came to study journalism in the U.S. because I wanted to report on China without constraint. I thought that working for international media in the U.S. could be a path toward that goal, but increasingly, it seems like a false promise.
At Columbia University, we listened to Pulitzer-winners describe how their stories changed regulations and made real impacts. The prospect of following in their footsteps lit fires in our eyes. We traveled all the way from China here because we were told that freedom of the press is written in the constitution, and we could contribute to bettering society with our cameras, recorders, and pens.
I aspire to be part of the journalism community I revere. I'm willing to work hard to advance my grasp of the English language and to improve my journalism skills, but I have no way to change how my Chinese nationality is perceived.

What Happened at China Daily
Judy Zhu, former multimedia reporter for China Daily USA
On March 13, I was laid off together with 59 other Chinese journalists who worked in the U.S. at the five Chinese state media organizations. We lost our jobs because the Trump administration imposed restrictions on the number of Chinese citizens employed at these outlets. I was shocked but not surprised. To Trump and many people here in the U.S., China Daily is nothing but a Chinese propaganda mouthpiece.
However, my experience in the newsroom gave me a different perspective: I came to the U.S. in 2015 for graduate school. Starting with my first internship, I've worked at China Daily for four years. About 50 percent of the editors and reporters at China Daily are American citizens who used to work at publications including the Associated Press, The New York Times, The Wall Street Journal, etc. Those who are similar to my age are typically graduates of journalism programs at Columbia University, UC Berkeley, and Northwestern University.
During my time at China Daily, we interviewed 12 U.S. governors about their states' strong ties with China; we told a touching story of a Chinese tour guide who helped transport victims during the 2017 Las Vegas massacre; we talked to American farmers and local business owners to hear their views on the U.S.-China trade dispute; we produced a video series featuring the 40 people who contributed to better U.S.-China relations in the past 40 years. As far as I know, my editors and I have never directly received any orders from the Chinese government to produce propaganda for political purposes.
Before the personnel cap was imposed, China Daily had about 35 employees in the U.S. Now, almost all the Chinese employees who are not permanent residents have been laid off or have returned to Beijing. Fortunately, I am able to stay in the U.S. with an O-1 visa that allows me to work for multiple employers, but many of my colleagues had to leave. One of my colleagues went to China in January for the Spring Festival and was stuck there because of the pandemic. While still away from the office, she was notified that she would be laid off and could no longer stay in the U.S. We packed up her stuff in the office and in her apartment. I don't know if I will ever see her in the U.S. again.
As journalists, we often report on others' tragedy to call for justice or investigate how policies could impact the public. I never thought that I would become just a statistic, sacrificed as a bargaining chip in a tit-for-tat campaign between two countries. I made a video documenting my experience being laid off.

We Are One and the Same
Jin Ding, Program Manager at The International Women's Media Foundation
The citizenship-based visa restriction on Chinese journalists imposed by the Trump administration is a threat to press freedom, and the media industry is not talking about it enough.
Many of us are afraid to talk about it because we don't want to be seen as defenders of the Chinese Communist Party, especially when the first visa restriction was imposed against Chinese state media. But regardless of what type of news outlet it is — state-owned or commercial — what we are witnessing is the U.S. government interfering with journalistic practices.
The United States is a country founded on freedom. That's why journalists from across the world come here, including those from mainland China. Building a journalism career in the U.S. as a minority and a foreigner with a different native language is challenging. Yet, they choose to come and try to stay, because their home country is the biggest jailer of journalists in the world.
At Chinese Storytellers, we try to educate the media industry about the importance of diversity and the value of insider perspectives. It is crucial to hire more Chinese journalists to report on China-related stories so the world can better understand its second-largest economy. It is also equally important that Chinese journalists are not limited to just reporting on China, because just like reporters from any other country, they should have the freedom to report on all the topics they are passionate about.
Sadly, the new visa restriction further limits Chinese journalists from entering the workforce. As the pipeline narrows, we face the loss of an irreplaceable conduit of quality journalism that has already delivered countless compelling stories.
---
Writers: Shen Lu, Zhaoyin Feng, Mia Li, Zeyi Yang, Zhang Qi, Zhang Yan, Judy Zhu, Jin Ding; Editors: Muyi Xiao, Xinyan Yu, Miles Goscha, Isabelle Niu.
Chinese Storytellers is a community that empowers Chinese non-fiction content creators. Follow us @CNStorytellers. Questions? Suggestions? Comments? Tell us.