Hidden Emotional Toll of Covering Hong Kong
No.11
Hello friends,
This is Isabelle Niu 牛牧歌. I'm a New York-based video journalist at Quartz and a founding member of Chinese Storytellers.
In the past few weeks, I have lost countless hours of sleep over the news coming out of Hong Kong. In addition to watching a plethora of distressing footage, I have struggled with navigating between the two parallel universes divided by the Great Firewall. Having loved ones on both sides, I could never simply dismiss those who do not agree with my own views.
Following and discussing the protests have taken a real emotional toll on me, but my stress pales in comparison with what my fellow journalists experience, filing daily reports on the protests in Hong Kong.
In this issue of Rock the Boat, we will hear from a few journalists who have reported on the protests extensively for the past three months.
Chinese Storytellers has been a solid support network for me, and I hope it becomes one for more storytellers who need it.
Best,
Isabelle Niu 牛牧歌
(Banner: "Being born in uncertain times comes with certain responsibilities." Credit: Lam Chun Tung, Initium Media)
---
MAKE A SPLASH 卧虎藏龙
Best work from our members.
🇭🇰🇨🇳How Mainlanders Really Feel About Hong Kong
For The Nation, Shen Lu 沈璐 writes about the complex and diverse feelings mainland Chinese have about the turmoil in Hong Kong.
READ.

🇭🇰🔇Supporters of Hong Kong Protests Face Doxxing
Tony Lin 林知阳 and Jane Li 李林晋 report on the risks facing Chinese supporters of the Hong Kong protests.
READ.

🤭🗣️Freedom and Courage in Dissent
"Freedom always comes at a cost, but the cost of not exercising that freedom is always much greater." Yangyang Cheng 程扬扬's August column for SupChina delves into her own experience with expression and freedom in dissent.
READ.

💸⚔️Ginseng Caught in Trade War Crossfire
Ginseng from the US, which used to have a 7.5% tariff on exports to its largest market – China, now suffers from a 41.5% tariff. Video producer Qinling Li 李沁灵 reports from Wisconsin.
WATCH.

🍚🐰China's Feminist Movement Abroad
Shen Lu 沈璐 pens an in-depth story for ChinaFile about the resilience of Chinese feminists, who are taking the movement abroad after being thwarted at home.
READ.

🧒🏻🧒🏻Growing up in 'One Child Nation'
Isabelle Niu 牛牧歌 talks about the collective amnesia and generational trauma caused by the one child policy on the Loud Murmurs podcast.
LISTEN.

✍🏼📓Journalists' Hidden Emotional Labor
Zhaoyin Feng 冯兆音 and Sirui Hua 华思睿 unpacks the often-overlooked mental health challenges facing journalists in the digital era on the ETW podcast.
LISTEN.

🐈🐈Meet China's First Clone Cat
Photojournalist Cong Yan 丛妍 captures images of China's very first clone cat, Garlic, for the New York Times.
READ.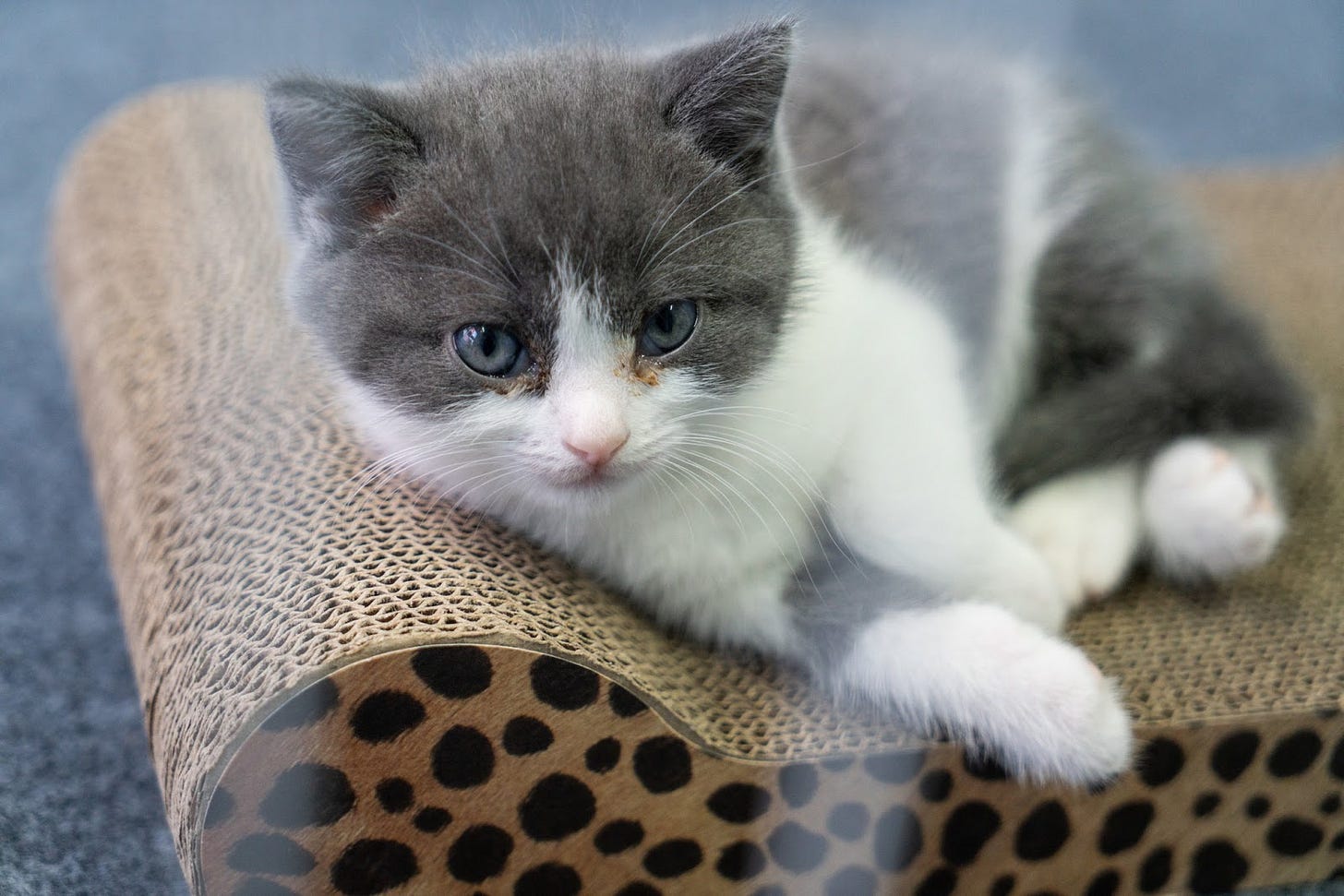 (Photo credit: Yan Cong for The New York Times)
---
ROCK THE BOAT 抛砖引玉
Thoughts from our members and beyond on topics about the media industry, diversity and more.
Reporters, who are supposed to uphold journalistic objectivity, also have feelings. Covering the now-three-month-long Hong Kong protests presents an added challenge to Chinese journalists – how to confront our own cultural and political identity when reporting on an issue that is deeply divisive and close to home?
Member Mary Hui, a Hong Kong-based journalist for Quartz, shares her experience of reporting on a seemingly endless story and how to prevent burnout:
There's no end in sight, as protests edge well into their third month. For protesters, this is undoubtedly a tiring time. For journalists, as well. It feels as though there will never be a break.

Even seemingly small developments have the potential to spiral into a defining moment. The anxiety of missing a major turning point becomes all-consuming, and the constant pressure to follow the non-stop news is both mentally and physically draining.

I've come to realize that one of the most effective ways of ensuring sustainability is to take a step back from it all. Take the Friday night off. Make a point of not going to a weekend protest. Turn off the livestream and stay off Twitter. Go for a big hike in the mountains and be completely unplugged for the day. Someone else will cover the news. It's not free-riding; it's playing the long game.
A mainland journalist in Hong Kong writes anonymously about the intense physical and emotional effects of covering the protests:
In June and July, the loud squeak of metal barriers being dragged along roads haunted my dreams. A low fever and a respiratory allergy plagued me for nearly a month, as I struggled to cough out sputum in a color similar to the choking gas. But this city, covered all over with cuts and bruises, kept going. And so did all journalists who spared no effort to document every detail of the constantly changing demonstration, the outburst of emotions, and most importantly, the escalation of force, and the abuse of power at all levels…

It's uncertain how the movement will land, but it's certain that as a part of Hong Kong and its press, I will land with it in whatever way it's destined.
A journalist from mainland China writes about the violent and tender moments of the movement:
The past three months felt like three years to me. I was tear gassed and pepper sprayed, but luckily I have not been hit by rubber bullets, run over by a car or torched by a Molotov.

But there is a tender and overlooked side of the protests. Many peaceful protesters use creative art forms to voice their demands. I was touched when covering the protesters' human chains across Hong Kong, where thousands, if not tens of thousands of people, came out on a Friday night to demonstrate people's solidarity.

I'm not a permanent resident but I love Hong Kong and care about it. So I'd like to take this opportunity to plead to the protesters: Remember where you started. Don't be blinded by hatred.
Irene Chan, a news editor based in Hong Kong, describes her struggles as a citizen and a journalist.
I am a journalist, but I'm a citizen first. Born in mainland China and having lived in HK for over 10 years, I have never experienced such a long-lasting social movement so intimately, riding the emotional rollercoaster of sorrow and excitement like many other Hong Kongers.

But as a reporter, I have to ask myself: How do we get to the deeper issues behind these intense emotions? The more I report on the turmoil of Hong Kong, the more I'm aware of the false pretense of "absolute neutrality" in journalism. All we can strive for is to present diverse views, to develop an understanding of a complicated situation, and to keep asking difficult questions.
🤔Tag @CNstorytellers on Twitter to keep the conversation going.
---
RAISE A GLASS 拍个马屁
We recognize our members' professional achievements (and flatter them).
🏳️‍🌈Intersex, and Proud: Pang Yuhong 庞玉红's documentary "She's Not a Boy" received awards at the Idlewild International Film Festival and Vancouver Queer Film Festival.
💪Women March Together: The short documentary "One of May," which Qinling Li 李沁灵 co-edited, is an official selection at Out on Film, Atlanta's LGBTQ Film Festival and winner for Best Short Documentary at Mindfield Film Festival.
💊Drugs that kill: Yu Xinyan 余心妍's video "Fighting Fentanyl: the Drug from China Destroying American Lives" won WAN-IFRA Digital Media Awards - Best Use of Online Video.
📰Listen To Jin: On September 21 and 22, Ding Jin 丁进 will speak on two panels at JAWS Camp 2019: "Get Your Ideas Funded Now" and "Going Global: Positioning Yourself for Foreign Reporting Assignments."
🥂 Tell us what makes you proud via email, Slack or Twitter.
---
MAKE SOME DOUGH 肥水入田
Jobs, gigs, grants, fellowships, etc.
Sinocism is hiring two interns who have native-level Chinese and domain knowledge in business/finance/econ and tech/media. Pay: $15/hour. Send resume to bbishop@gmail.com and mention you heard about it through Chinese Storytellers. - [Remote]
CNN Beijing is looking for a full-time associate producer who is a native Chinese speaker. Video experience is highly desirable. Send resume, links to work, a cover letter and story ideas to cnnbeijingjobs@gmail.com. - [Beijing]
SupChina is calling for pitches from Chinese Storytellers. They want China stories about health care, business and markets, tech, education, culture, food and sports. Send pitches to jeremy@supchina.com. - [Remote]
The Pulitzer Center is looking for an employment opportunity communications assistant. Send your application to jobs@pulitzercenter.org and include "Communications Assistant" in the subject line. APPLY - [Washington DC]
Digital media startup Chinarrative is looking for a part-time managing editor. The ideal candidate would have native levels of English and Chinese and work one full day a week ideally out of Beijing. Reach out to editors@chinarrative.com or via WeChat: Cm2130.
👀Find more on the #opportunities channel on Slack.
---
Writer: Isabelle Niu; Editor: Zhaoyin Feng; Copy Editor: Miles Goscha
Chinese Storytellers is a community that empowers Chinese non-fiction content creators. Follow us @CNStorytellers. Questions? Suggestions? Comments? Tell us.