Hello friends,
I'm Mia Shuang Li 李爽, a former reporter with the Beijing Bureau of The New York Times and currently a research scholar at the Paul Tsai China Center at Yale Law School.
I left the Times in early 2016, partly because reporting had become very difficult. As the state's oppressive actions against its own people became more and more pervasive and effective, my list of names whom I could call for quotes became shorter and shorter, and finally non-existent. When I did get someone on the record, I either worried about their safety or got suspicious of their motives. I joked to myself that sources who knew anything wouldn't talk and those who talked knew nothing.
In mid-2016, I moved to New York City (ready for a Madam President!), where I attended an average of three China-related panels almost every week, all of which oozed pessimism about China's tightening domestic control. Speakers believed that all anyone could do was to save the rest of the world from Beijing's reach.
As such, more journalists have started to report on China from outside of China. There are also other reasons to do so: it is difficult for both Chinese and foreign reporters to acquire proper credentials to report inside China; Chinese sources abroad speak much more freely; stories closer to home naturally matter more to international audiences, and positive change resulting from impactful reporting is more likely to occur outside of China's borders.
As China's economic might and global presence continue to expand, there are more Chinese investments, students, scientists, and bubble tea shops than ever before. China reporting is no longer merely foreign reporting — it is local, and viscerally consumed every day by readers around the world.
So the "China's influence" beat was born, but the scope of influence reporting so far varies from clear revelations of its mechanisms to the-details-are-opaque-and-unknowable-but-you-should-be-very-scared fear-mongering.
In this issue's Rock the Boat, we will discuss: What separates good influence reporting from the bad? How can influence reporting best serve readers and an open society? How can it preserve liberties — the very things it aims to protect — rather than damaging them?
Mia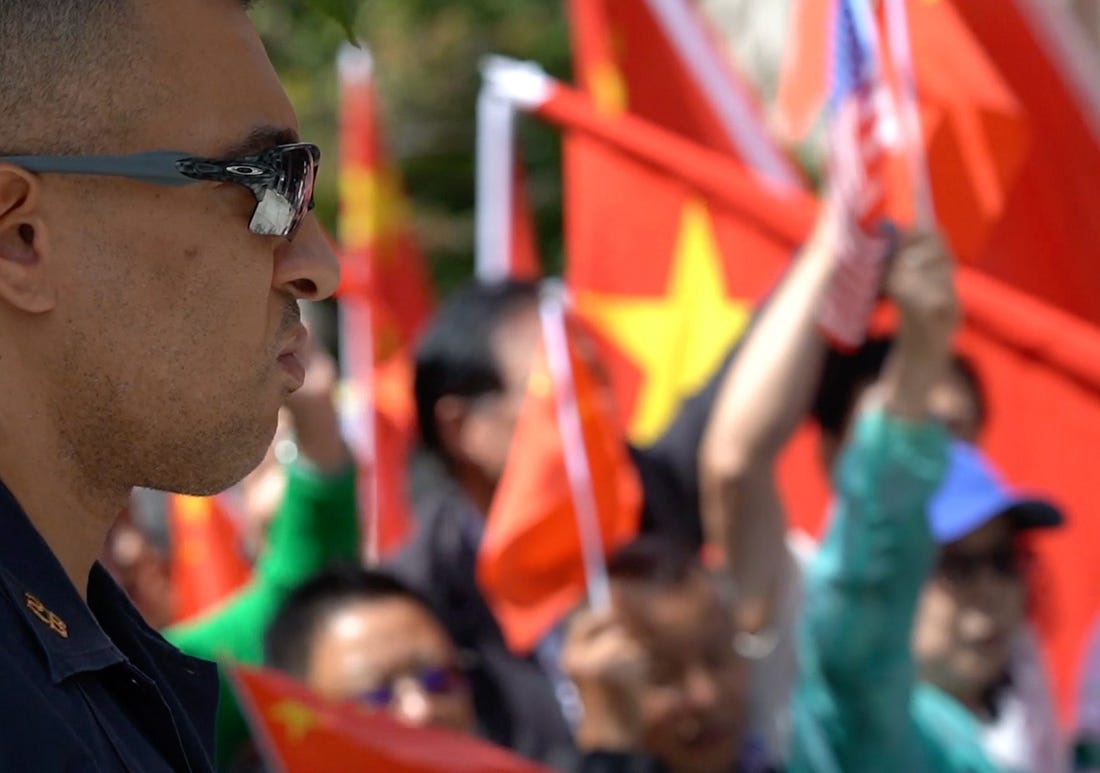 Save the date: On December 9, we will co-host an intimate sharing session with Inkstone in New York on the power of storytelling. Please RSVP early to secure your seat!
---
MAKE A SPLASH 卧虎藏龙
Best work from our members.

🛵🍲 The Delivery Drivers Keeping China Fed
Buckle up as Yan Cong 丛妍 and Beimeng Fu 傅蓓梦 put you behind the wheels of a food delivery driver in China swerving in and out of busy traffic in this interactive visual project for The Washington Post.
EXPERIENCE

👑🍎 A Drag King in A World of Queens
The South China Morning Post's Joy YT Chang 張友慈 documents the iconic Wang Newton, a drag king and comedian based in New York City and one of the few Asian-American "kings" in the United States.
WATCH

🥔🌽 Fighting Food Colonialism
For Civil Eats, Lily Qi 戚凌华 writes about how the Hopi Tribe, a sovereign nation in the U.S. state of Arizona, is fighting to restore food sovereignty for its 2,500-square-mile reservation.
READ

🗳️✌🏼 Hong Kong Voters Back Protesters
Viola Zhou 周易 reports on Hong Kong's historic district council election, in which the pro-democracy camp won by a landslide.
WATCH

👩‍👧📞Talking to My Mother About Hong Kong
In her monthly SupChina column, Yangyang Cheng 程扬扬 writes about the intimate experience of talking to her mother about the protests in Hong Kong and how it affects her trans-Atlantic mother-daughter relationship.
READ

🎤🤐 ByteDance to Ringfence TikTok
Exclusive scoop by Echo Wang 王菁 and team at Reuters reveals ByteDance's efforts to separate its social media app, TikTok, from its Chinese operations amid a U.S. national security probe.
READ

🚬🛢️ From LA's Urban Oil Drilling to Vaping Scare
For CNN's mini-documentary series Go There, producer Alice Yu documents the plight of Los Angeles residents living alongside urban oil fields, Americans opening their homes to refugees, the vaping scare among teens and racist incidents at Syracuse University.

😠💬Huawei's Worst PR Nightmare
Huawei's worst PR nightmare is not overseas — it's at home. Quartz's Jane Li 李林晋 writes about the huge domestic backlash against Huawei for its mistreatment of former employee Li Hongyong, who was detained for nearly a year following an unsubstantiated accusation against him by the company.
READ

💔🕯️ Don't Name the Shooter
Ruby Yuan, executive editor of Annenberg Media at the University of South Carolina, opines in a letter to The Los Angeles Times that the paper should not have revealed a shooting suspect's name since studies have shown that giving killers notoriety can be dangerous.
READ

👋Submit your published work in three ways: 1. DM us on Twitter; 2. Post it on the Slack channel #shamelessplugs; 3. Email hello@chinesestorytellers.com
---
ROCK THE BOAT 抛砖引玉
Thoughts from our members and beyond on topics about the media industry, diversity and more.

In developed democratic countries, media outlets are looking to establish a "China's Influence" beat. Why do we need it and how shall we best cover it?
Axios' China reporter Bethany Allen-Ebrahimian shares how she feels about the term "China's influence" in the context of journalism and academic research:
The phrase "China's influence" might reveal more about America's national psyche, in a period where we are transitioning away from a unipolar world, than it does about China itself. From humble origins two years ago, the conversation about "China's influence," as a sort of global category through which to discuss what China is doing in the United States and around the world, has now achieved national resonance.

But rather ironically, given that I am one of the "founders" of this discussion in the U.S., I don't love the phrase "China's influence." That's firstly because it is so broad as to be essentially meaningless. Imagine, if you will, a journalist whose beat is "America's influence in the world." That would cover far too many regions, industries, and fields.

More importantly, however, the discussion around China's influence isn't, at its heart, a new field of knowledge. While research and investigative journalism have uncovered new and alarming information regarding China's quiet influence and political interference in the U.S., there has never been a shortage of excellent reporting and research on China.

Rather, it is a way to reprocess what we already know through the lens of China as a global superpower. It is a profoundly Western, and especially American, construct. We're not used to another power having the kind of sway that we do; it's been 30 years since we lived in a world with a peer. And the U.S. has never in living memory navigated a world in which we are clearly #2 — a very real and looming possibility. We don't know how to write about it yet.

What "China's influence" really means, as a category of research in the current moment, is a space that we have woken up to discover is beyond our reach. At some point, without us quite being aware of it, the power to have things our way has started slipping through our fingers in spaces large and small. It's a line of thinking that is nominally about China, but in the U.S. context, it's more about our loss of control and our impending loss of identity.

In this way, I find "China's influence" to be a problematic, but paradoxically useful, term. It's a reframing of how we view our current body of knowledge, but more importantly, it's a hard look in the mirror. And in my mind, it's more a term of transition — a sort of transition in our national psychology from our status as the world's only superpower to a world in which China can often do what it wants, when it wants, where it wants, regardless of how Americans feel about it.
Lotus, a researcher at Citizen Lab at the University of Toronto, emphasizes that influence reporting needs specificity and nuance:
The increasingly prevalent discussion of "China's influence" showcases a sense of anxiety, if not fear, among Western democracies as China, a country with a starkly different political system, is becoming — if it hasn't already — a norm-shaper in the international community. The scrutiny over China's activities abroad as there is mounting evidence that the Chinese government is exerting its power through money and sometimes threats on foreign entities and Chinese individuals residing overseas.

However, the term "China's influence" can also be misleadingly dangerous. Apart from the fact that "influence" is too broad and often ill-defined, leading observers to label both benevolent and malicious activities as some conscious influence campaigns, the word "China" is also convoluted in meaning.

What China are we talking about? By China, do we mean the Chinese government, the Communist Party of China, or the Chinese people? When a story does involve Chinese people, are they Chinese nationals who willingly act as agents of the Chinese government or who genuinely believe in the state and choose to promote their beliefs overseas? Granted, evidence that unequivocally proves one way or the other is difficult to gather, and it is hard to completely separate the state and the society under China's political system. Yet confusing these concepts and ignoring the nuances will result in a new kind of threat: the perceived fear of China or China influence rather than China itself.
Vicky Xiuzhong Xu, a researcher at Australian Strategic Policy Institute and a former reporter with The New York Times and ABC News, explains why the "China's influence" beat exists in Australia and why she chooses to report on it:
"Chinese influence" has been a big issue here in Australia because the country is geographically close to China and has seen too many worrying episodes of Chinese party-state interference, including but not limited to hacking of parliament, an alleged plot to install a spy in the federal government, detainment of an Australian writer, numerous scandals of Chinese Communist Party-linked political donations, attempts to stifle freedom of speech.

On top of the worries, there's fear and sorrow. The party-state's treatment of the Uyghur people and other Muslim minorities have left a community of Australian Uyghurs in distress. Hong Kongers fear for their safety even in Australia. There is increasing anxiety here as China, Australia's largest trading partner, becomes increasingly authoritarian and willing to use coercive measures to achieve its foreign policy goals.

Recently, I interviewed Australian politicians and academics who are friends and critics of China, and who seem to share a growing common understanding that the "engagement era" is over: the idea that, simply by engaging with China, the country will naturally open up and shift to a democratic society is now proven outdated. The PRC's influence is no longer just a national security issue for spy agencies, but a community issue that involves real people.

The Chinese government has repeatedly called for Australia to drop its "Cold War" mentality, accusing those who call out their interference efforts as being racist. And there is a genuine — though not always well-founded — fear among the Chinese diaspora (mainly Han Chinese people) that a debate about the PRC's influence marks the reemergence of the Yellow Peril. In my view, the Chinese diaspora community needs to play a more active role, not in curbing discussion of Chinese party-state interference, but in asking if the community has unwittingly enabled those interference attempts. If the community does not want to be seen as a monolith complicit in the Chinese government's actions, they need to act like one.
Tianyu Fang 房天语, a Massachusetts-based writer, says reporters have the responsibility to discern facts from hype and reject pre-written narratives:
Distinguishing government-sponsored agendas from civilian behaviors is often challenging, and this is especially true when it comes to China, where the line is often blurred. That leaves much responsibility to reporters and researchers, who need to discern concrete facts from hype and refrain from fitting nuanced stories into pre-written narratives. I'm not sure if having "China influence" in its own beat will help with that.

We also need to think about how much of the present-day "China influence" story is, as it's widely presumed, peculiar to China. When our democratic systems offer legal mechanisms that foreign governments can take advantage of, we either have to uphold our own open values — if we are confident enough about them — or plug the loopholes; that's where the discussion really needs to focus on.
Zhaoyin Feng 冯兆音, a Washington D.C.-based reporter for BBC says the key is empathy and self-restraint to revert to the default narrative:
Reporters on the "China's influence" beat may or may not get to travel the world, but they must be able to smoothly go through an invisible digital Berlin Wall, which separates two parallel universes of confrontational public opinions epitomised by WeChat and Twitter.

The beat can act as a bridge for communication, but when overblown, it could risk becoming fear-mongering. I see an important part of the job as to peel off the lenses through which we observe "the opposite side" and to take one step further to explain our existing perceptions. It requires a great deal of empathy and self-restraint to resist the temptation of adhering to the default narrative. How and why did we come this far? What are each side's actions? Is this the whole picture? These are questions quality "China influence" coverage should answer.
Jiang Yaling 姜雅玲, New York-based freelance journalist, also stresses the importance of nuance:
What difference does it make if the beat reporter was a Chinese citizen? What if they are an American-born Chinese or a non-Chinese reporter who's studied Chinese but never been to China? Different life experiences might result in contrasting story angles.

All news is filtered by the social and political perceptions of reporters or institutions, whether they like to admit it or not. In the case of China's influence beat, which examines China through the lens of the reporter, it is the employers' responsibility to prevent it from becoming opinionated.
🤔Tag @CNstorytellers on Twitter to keep the conversation going.
---
RAISE A GLASS 拍个马屁
We recognize our members' professional achievements (and flatter them).

😋 Yue Qiu 邱悦 led a session at the SRCCON: LEAD 2019 conference in Philadelphia on how to love your job more and feel more fulfilled as an editor/manager in a newsroom.

🥼 Zhou Youyou 周优游 gave a talk at Sci Viz NYC 2019 on how her team at Quartz used data, interactive storytelling and visualization to help people understand emerging trends in medicine big data.

📡At the fourth annual ChinaPower Conference, Joy Dantong Ma 麻丹彤 debated whether a technology Cold War between the United States and China will lead to separate spheres of technology influence.
🥂 Tell us what makes you proud via email, Slack or Twitter.
---
MAKE SOME DOUGH 肥水入田
Jobs, gigs, grants, fellowships, etc.

Nikkei Asian Review Contributor - [Global]
The English-language Japanese magazine is looking for opinion writers across a broad range of Asia-centric topics. Ideas should have a strong news hook and must have a view. Please send two-line pitches to josh.spero@nex.nikkei.com.

The Washington Post Correspondent - [Beijing]
The Washington Post is adding a third correspondent to its bureau in Beijing. The reporter will focus primarily on trade, technology and business, the paths through which China shapes ordinary lives around the world in countless ways. APPLY
👀Find more on the #opportunities channel on Slack.
---
Writer: Mia Shuang Li; Editors: Muyi Xiao, Xinyan Yu; Copy Editors: Miles Goscha, Shen Lu.
Chinese Storytellers is a community that empowers Chinese non-fiction content creators. Follow us @CNStorytellers. Questions? Suggestions? Comments? Tell us.